Dock Days of Summer Free Music Series
Time: 02:00 PM
- 05:00 PM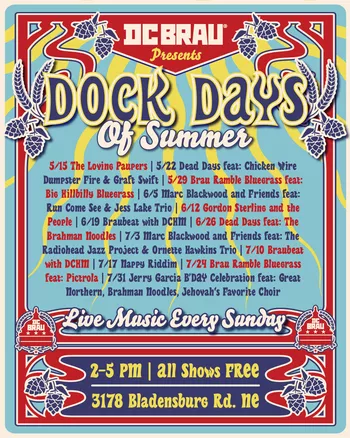 Hot summer days are calling for cool, delicious beer and great music in the beer garden!

Join us every Sunday from 2-5 pm for Dock Days of summer featuring live music, cold beer, and house-made slushies to chase away the Sunday scaries.

Every week features a different band, so be sure to check back often for updates throughout the summer!
5/15 The Loving Paupers
5/22 Chicken Wire Dumpster Fire | Graft Swift
5/29 Brau Ramble Bluegrass w/ Big Hillbilly Bluegrass
6/5 Marc Blackwood and Friends | Run Come See / Jess Lake Trio
6/12 Gordon Sterling and the People
6/19 Braubeat with DCHM
6/26 Dead Days w/ Brahman Noodles | Acoustic Set
7/3 Marc Blackwood and Friends | The Radiohead Jazz Project | Ornette Hawkins Trio
7/10 Braubeat with DCHM
7/17 Nappy Riddem
7/24 Brau Ramble Bluegrass | Pictrola
7/31 Jerry Garcia BDAY Celebration | Great Northern, Brahman Noodles, Jehovah's Favorite Choir Featuring: Shade Ungar, Jasper Juniper, & Marc Blackwood
8/7 Marc Blackwood and Friends | Banana Nanny
8/14 Shamans on Sound
8/21 All in Band
8/28 Brau Ramble Bluegrass | Moose Jaw
9/4 Marc Blackwood and Friends | Hi-Fi Sci-Fi | Austin Loman Trio
9/11 Braubeat with DCHM | Black Lung
9/18 Dead Days (Tentative)
9/25 Brau Ramble Bluegrass w/ Big Howdy
10/2 Marc Blackwood and Friends | Anthony Pirog Group / Jazz-Circuit
10/9 Ska Reggae and Soul
10/16 Medicated Headsmen
10/23 Dead Days w/ Brahman Noodles Acoustic Set
10/30 Halloween METAL SHOW